Information obtained from:
http://www.autographalert.com/news.html
Breaking News:
May 29, 2009
PSA/DNA - Just another embarrassing mess

Many thanks to one of our readers for sending us the following information. It's nothing more than the same ole repetitive incompetence.

The following item was up for auction at ********** Auctions based in *******. The auction house based their catalog description on the information provided for them by the so-called authenticating company.

Here's just another example of money well spent by someone who paid a 3rd party authenticating company to do what they do best.

PSA/DNA slabbed and certified "Authentic" a signature of James Earl Jones. As most of you know James Earl Jones is an American actor of stage and screen. He may be best known for being the voice of Darth Vader in Star Wars.

Take a peak at the autograph, gasping for air, inside the plastic holder. It is a signature of James Earl Ray, the convicted assassin of the civil rights leader Matin Luther King, Jr.

<![if !vml]>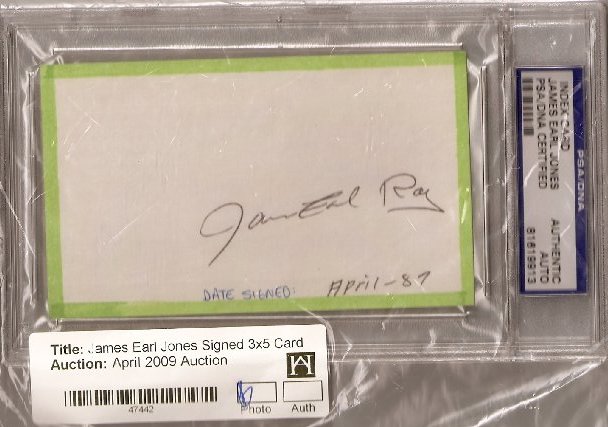 <![endif]>
Illustrated above according to PSA/DNA James Earl Jones 3x5 card
How much money did someone waste for this authentication?
This is a perfect example of another auction house looking awful by offering an item "thoroughly examined" by a third party authenticating company.

The PSA/DNA"s web site states they have the "world's foremost autograph experts." If this is so can you imagine what's left to work for the competing authenticating companies? PSA/DNA's "Step 1" process includes an autograph structure analysis. Step 1 also includes a "side by side comparison."

STEP ONE OBVIOUSLY DOESN'T WORK!

The autograph "experts" at PSA/DNA have done another fine job of looking foolish. The PSA/DNA web site also states: "Occasionally our experts cannot express an opinion on an autograph. These will be designated as inconclusive." The James Earl Ray signature was not designated as "inconclusive." The "experts" expressed their opinion and that is it is the signature of James Earl Jones.

Those who allow their name to be listed as autograph experts on the PSA/DNA web site are:

James Camner
Bob Eaton
Steve Grad
T.J. Kaye
Kevin Keating
Kevin Low
John Reznikoff
Zach Rullo
Bob Zafian