Information obtained from:
http://www.autographalert.com/news.html
<![if !vml]>

<![endif]>Breaking News:
May 11, 2009
Autograph Authenticators Continue To Be An
Embarrassment to the Hobby!

We understand that most of you reading this site are not and don't claim to be autograph authenticators. Trust us when we say that most of those who claim to authenticate are also not autograph authenticators.

The following example is from what we can call a good example for "Autograph Authenticating 101". Unfortunately there are still some uneducated persons who are still willing to squander their money and pay an authenticating company their hard earned money for a worthless opinion or a guess. The only explanation for the following is of the three who issued a Certificate of Authenticity, the first one was simply incompetent. The other two just went along with the first and not a one did a second of research and for certain all three has no clue understanding handwriting.

The following illustration is from the recent *** Auction which ends May 13, 2009. We refer to item #1461 entitled Joe Louis. *** totally embarrasses themselves with a lengthy description of this being a "rarely seen example of the Brown Bomber's given name, Joe L. Barrow, is penned on the back of this..bank check..." The description continues with such wording that they make it appear they know what they are talking about...."on the back of the instrument, Louis' flowing, black fountain pen inscription reads...."

The description borderlines on being hilarious. Part of the description reads: "Accompanied by a full PSA/DNA letter of authenticity." If you want to feel more secure bidding on this item, the bank check is also backed by another COA: "JSA (James Spence Authentication) Mike Gutierrez Auction LOA." Just for good measure they tack on a third COA from *** Auction. Sure wish PSA/DNA would mention on their Certificate who the "wizard" was that certified this item. Always seems like no individual is ever held accountable.
Item #1461 Joe Louis
<![if !vml]>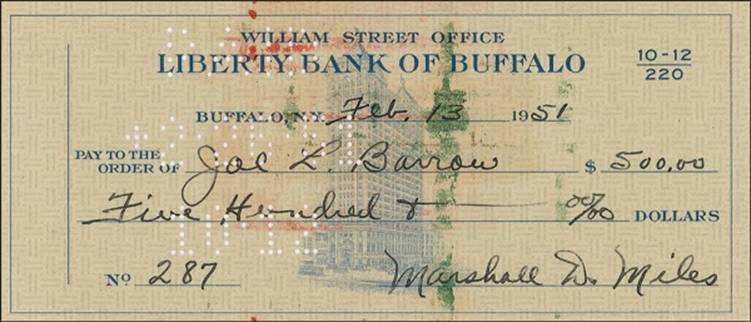 <![endif]>
Three COA's, and the item is finally withdrawn due to what the *** website states is a "description error?" How about being honest and saying a major authenticating blunder!

For those few who may still want to defend the authenticating companies (for whatever your personal reason), you need to continue reading. The rest should continue for entertainment and educational purposes.

Autograph Authentication 101. You don't even have know what Joe Louis's hand writing looks like. Why should you, the three authenticator's didn't know? Let's just assume the person who filled out the check was Marshall Miles like the catalog description states. It's simple, just examine Marshall's handwriting. Look for an unusual shaping of a certain letter such as the "F" in February and the "F" in Five. Class, now look at the back of the check and notice the "F" in the word For. Does something jump out at you, who are not authenticators? Let's go one step further, and look at the signature of Joe Barrow on the front and compare it to the signature Joe Barrow on the back. Even those with no autograph experience can see the name "Joe Barrow" written on the front and back of the check are by the same hand. You passed the test, class dismissed. The three who claim to authenticate have failed, miserably!

That was easy, however a genuine autograph authenticator would know the words "For deposit only" is not the handwriting of Joe Louis the boxer.

What more proof do you need that the authenticating companies didn't do any research, did not check exemplars and have no clue about hand writing? What more proof do you need to realize that *** Auctions also has no clue and continues to simply issue their own COA based on the others?

Many of you may now understand why the list of autograph sellers grows that will not even consider giving a refund based on "guesses" or "opinions", backed by nothing, from these incompetent so-called autograph authenticating companies.

Shame on the handful of auction houses who support the third party authenticators. Shame on the few shops who allow them to come on their premises and shame on the handful of shows who rent these people booths. They won't rent a booth to a forger but will rent one to an authenticating company who floods the autograph hobby with non genuine items declared genuine. It's still all about greed!

If some people had a dog this blind, they might consider putting it to sleep!
___________________________________________________________
An addendum to this story:

Here's an example of a check from the same time frame that actually
has a legitimate full name Joe Louis Barrow endorsed signature on
the reverse