Information obtained from:
http://www.autographalert.com/news.html
<![if !vml]>

<![endif]>Breaking News:
December 1, 2008
PSA/DNA, How Do You Defend This?

Go to the PSA/DNA web site and read about autograph authentication. They state: "Have your autographs examined and certified by the world's foremost autograph experts."

Their authentication process includes a four-level authentication system. Level One being "The Authentication Process." The first step of Level One includes: "Ink/Medium Analysis, autograph structure analysis, object evaluation and also side by side comparisons (when necessary)".

This Level One step also includes the use of the controversial Video Spectral Comparator. PSA/DNA claims using this machine can tell "differences in ink types."

Several names are listed as autograph experts at the bottom of PSA/DNA Certificates. However we can find no instance where anyone of these so called experts will take the blame for a mistake.

By now, most everyone in the autograph collecting hobby should be well aware that "people authenticate autographs not companies".

Some questions need to be asked.

With so many documented mistakes, many being sophomoric, why would any company still claim they have "autograph experts" on their staff?

Why would any company who claims to authenticate autographs hide who the individual is that passed or failed any autograph?

Most interesting is why do some dealers and auctions houses continue to use the same authenticating companies that have made in the past and continue to make so many inexcusable mistakes?

An inexcusable blunder made by the "experts" at PSA/DNA could be found in a ******** Auction #612. Lot #22262. Cataloged as a Mary Pickford Signed Photograph. "RARE, vintage photo signed by the 'Pollyanna' star, one of the greatest actresses of the silent era." This supposedly RARE item is accompanied by a COA from PSA/DNA. See illustration below.
<![if !vml]>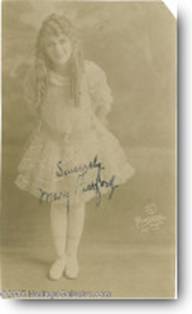 <![endif]>
Item # 22262 from ******** catalog #612
These photographs are by no means rare. They have been around for nearly 100 years and any dealer with the slightest experience most likely has come across these photographs. With a little effort a collector and surely an "autograph authenticating expert" can go to the educational web site of www.isitreal.com, click on the Reference Directory, type in Mary Pickford and voila, an identical photograph with the same signature comes on screen. On this site, the photo is accurately described as a photograph bearing a rubber stamped signature of Mary Pickford.

Can you imagine, someone paid for this quality of service?
How could such a mistake be made by the "experts" at PSA/DNA?
Who is the one or more "experts" at PSA/DNA that passed this as a genuine signature?
How can an autograph "expert" not be able to tell a real ink signature from a rubber stamped signature?
PSA/DNA's website states they do a side-by-side comparison (when necessary). Wasn't this case necessary?
Who was at the helm of the controversial Video Spectral Comparator which PSA/DNA claims can tell "difference in ink types?"

Lastly, why oh why, do these embarrassing mistakes continue to happen?